Romanian Touristic Fair- The XXII edition – 15-18 October 2009
7 November 2009
No Comment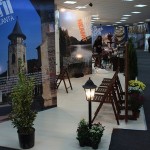 At the XXII edition of the Romanian Fair Tour, the Neamt County Council together with the Piatra Neamt Council and the Chamber of Commerce and Industry Neamt was present with the motto "Neamt – mountain, adventure, traditions" and a rich touristic offer. The stand of Neamt County took the big prise awarded by the magazine "Vacante si calatorii" ("Holydays and travels") for the most beautiful stand and the best touristic programs.
For this edition we had an impressive number of publicity materials such as: brochures, flyers, postcards, tourist guide, maps, and calendars.
The folk craftsmen Rodica Ciocârtău and Nicolae Popa, offered their support under the form of traditional masks, traditional costumes and handicrafts from the Neamt County. Among the visitors of our stand we can list Minister of Tourism Elena Udrea and the President Traian Basescu.
During the four days of the Fair of Tourism, along with representatives of the Neamt County Council and City Hall Piatra Neamt, the stand was attended by representatives of Central Hotel, the Casa Karol and Senin pensions and Mrs. Ionela Lungu, a craftsmen from Humulesti.
Photo Album
Click the images for a a larger version