The Folk Art Festival "Lada cu zestre", edition IV, 19-21 June
7 November 2009
One Comment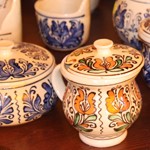 Between 19 and 21 of June 2009, near the bridge that goes to the Communal Beach, took place the IV edition of the Festival for Folk Art "Lada cu zestre". The event was organized by the Neamt County Council, the Piatra Neamt Town Council, the Neamt County Museum Complex and the Association for Folk Craftsmen from Moldavia.
During the 3 days of the festival the exposition offered the possibility to buy the products showed and the daily program was as it follows:
19 June –Friday
9:00 – 13:00 The arrival of the participants and the initial arrangements;
13:30 – 14:00 The official opening of the festival with a speech from the local authorities;
14:00 – 15:00 Artistic program;
15:00 – 20:00 The actual selling exposition.
20 June – Saturday
10:00 – 20:00 The selling exposition;
11:00 Topics "Arts and Crafts – present and future perspectives" in the room Ion Creanga from the Neamt County Council building.
21 June – Sunday
10:00 – 18:00 The selling exposition;
12:00 Awarding diplomas of participation
The participants to the festival:
Ceramics: Iacinschi Eusebiu, Molnos Joszef Corund, Mihuleac Ionela, Maxîm Petru, Bledea    Adriana, Iorga Liviu, Mocanu Marcel, Chira Vasile, Lungu Ionela, Scutelnic Ruslan.
Home objects industry: Goran Iulia, Denis Reka, Nicora Cristian, Tudora Gheorghe, Pavăl Emanuela, Ciocârtău Rodica, Pasat Parascovia, Tânăru Veronica, Clubul Copiilor Săbăoani, Asociaţia Meşteşugarilor Nemţeanca, Brânzucă Maria, Popa Aurelia, Ţepeş Nica Maria, Popovici Ruxanda, Hojbotă Veronica, Fundaţia Ştefan cel Mare.
Wicker rush: Zoltani Dănilă.
Wicker basketry: Toderaşcu Lilian, Brighidin Victor.
Masks: Ţugui Gheorghe, Nicolae Popa, Prundilă Valentin, Albu Ioan.
Wood working: Lungu Constantin, Cramariuc Florin, Constantinescu Cristi, Apalaghiei Maricel, Marian Gabriela, Benţa Nucu, Gaman Vasile, Tipa Valentin, Feraru Neculai.
Furriers: Dolhescu Nicolae, Dudan Vasile.
Leather work: Gavriliu Diana.
Painted eggs: Juravle Doina, Niga Cristina, Hotopilă Ileana.
Ornaments: Bulancea Mihai, Andrei Costin, Solomon Doina.
Sculpted icons: Ferăstrăoanu Margareta.
Glass painted icons: Hăisan Cecilia.
Musical instruments: Burşuc Gavril.
Traditional food products: Onu Andrei, Fazecaş Ghergey.
Photo Album
Click the images for a a larger version