The Legend of the Tower Butu and Ana from Ceahlau
23 November 2009
No Comment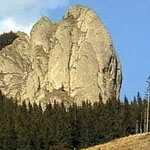 If you climb the mountain Ceahlau following the route bookmarked with blue cross, that starts in the village Neagra – Peek Neagra – Plane Varatec – Peek Varatec – Plane Maicilor – The Tower of Butu – Ocolasul Mic and goes up to the Cabin Dochia, you'll see two joined rocks called the Tower of Butu and Ana.
The legend of these rocks is presented to us by C Matase who speaks about Butu as a brave warrior from the time of ruler Alexandru cel Bun that was inloved with the king's daughter Ana. They wanted to get married but unfortunately during a battle Butu was killed. Against her will, she had to marry another man.
The get rid of this trouble lady Ana went to a witch to help her. The witch took Ana and Butu into the mountain and the break of dawn she turned both of them into two joined stones. The big and more imposing stone is Butu and the smaller stone is Ana: this way they remained joined forever. Read about other legends from Ceahlau Massif!