Pestera Munticelu – Neamt County
23 November 2009
No Comment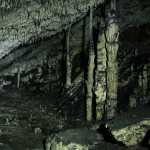 Location: Pestera Munticelu (Munticelu Cave) is located at the exit from the Cheile Bicazului, in the limestone base from Surduc, on the left side of the river Bicaz
Pestera Munticelu (Munticelu Cave) is considered to be the most important from Moldavia in terms of scenery and scientific value. The cave was discovered in the spring of th year 1973 by some kids that were out picking snowdrops in the area. That is why the locals call it the Snowdrop Cave (Pestera Ghiocelu). The trail to the cave starts in the left side of the quarry Surducu, at 250 m from the entrance in Cheile Sugaului. The entrance in the cave is approximately 1,5 m. right after the entrance follows a short 10 hall that goes down in a big room, of 30 m long and 4-5 m high. With a total length of 120 m Pestera Munticelu (Munticelu Cave) impresses because of the big room inside it and the geological limestone formations.

In the lower part of the cave, the big room has a flat floor, covered with clay. From this point there are some rocks piled all together in the shape of some stairs that go to the west. In the north part of the room we see a "forest" made out of limestone columns which makes this cave unique. In the south we can see a small lake.
The cave doesn't have interior lighting installation and that is why the access is difficult. The local authorities want to arrange the cave and to make possible its visitation in safe conditions.