Vasile Gaman Museum from Vanatori Neamt
7 November 2009
No Comment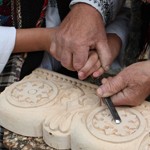 Address: Lunca, village Vanatori, Neamt County
Founded: in the year 1979
Category: Ethno
Open for public: daily
Short description
The folk craftsman Vasile Gaman was born on 20 January 1936 in the village Lunca. He learned at the School for Craftsmanship from Targu Neamt. Elder Vasile, how villagers like to call him, is well known in the entire country for his wooden sculptures. In his career that stretches over 40 years he dedicated himself to perfecting his skills of wood sculpture and to his collection of old tools, books, old icons, folk costumes, traditional masks, medals, coins.
The passion for folk art and the respect for the national history were very important for Vasile Gaman. In the year 1979 this passion will material itself in the form of a personal museum, located in Lunca from the village Vanatori.
The building of the museum is a traditional house and the permanent collection that is exposed here covers about 3,000 pieces collected or built over time. The entrance gate from the museum is a national monument and it has sculpted in wood the faces of Burebista, Decebal, Traian, Stefan the Great, Dragos-Voda and Mihai Viteazul on the map of Romania. The gate is flanked with the weapons that defended the gate.
The objects exposed in this collection are valuable: manuscripts, medals, wood painted icons, traditional masks, and ceramics. By working with passion the sculptor Vasile Gaman managed to ornate over 50 churches among which: Agapia, Horaita, Tisa, The Heroes Cathedral from Targoviste, churches from Bacau, Hunedoara and Oradea. Vasile Gaman is also a teacher of the Folk Art School from Piatra Neamt and a member of the Traditional Art Academy from Romania.
Photo Album
Click the images for a a larger version