Diecezan Museum of the Catholics from Moldavia
28 December 2009
No Comment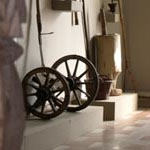 Address: commune Sabaoani, Neamt County
Web: www.sabaoani.cnet.ro
Short description
Diecezan Museum of Catholics from Moldavia is located in the village Sabaoani and was first open to the public in September 2002. It offers to its visitors an important lesson of history for the past of the Catholics that live in this part of Romania. The exhibition of the museum is made out of objects that have been found during archeological excavations, ethnographic studies or history studies.
The museum is organized in the old church complex from Sabaoani that was confiscated by the communists and then returned to the property of the church in 1990. The building was remade and the interior spaces were arranged to display as many objects as possible that are related to the Catholics from Moldavia. The museum has 8 rooms where the objects are organized into different categories such as: archeology, ethnography, history and liturgical items.


In the first room we can see the archeological section where there are ceramics, iron objects, ornaments and cult items from the middle of the XIV century and up until the XVII century, which has been discovered in the area of Bacau, Suceava and the Siret Valley. In the ethnography room we can see the main occupations of the Catholics: agriculture, rising the animals, wood working and so on. We can also see the traditional occupations like fishing and pottery.
In the history room we can see copies of different documents and old photos that speak about the active presence of the Catholic Church in this part of Romania. In the liturgical section there are present some personal objects of some important figures of the Catholics from these parts, such as: portraits, baptize acts, seals, clothes, books or cult objects.