The Horse Storage from Dumbrava – Timisesti
28 December 2009
2 Comments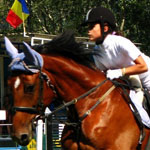 Address: commune Timisesti, Neamt County
Tel: +(40) 233 660 373
Program: 10.00 – 16.00
The access to the area is made through DN 15C from Piatra Neamt to Targu Neamt, or on the road DN 15B from Poiana Largului through Humulesti and Targu Neamt
Short description
The Horse Storage from Dumbrava also known as "The Stud of The King" is located at 10 km from Targu Neamt on the spot where once were the royal stables of Stefan cel Mare, under the guidance of Manole Jder. The construction of the today's stables began in 1910 under the guidance of the Minister of Defence and later on the Minister of Agriculture. Starting from the year 1959 the elite farm was taken into administration by the Gostat Department and after the year 2000 the domain will be administrated by the Neamt County Forests Direction.
Located in an area with a great touristic potential, the Horse Storage from Dumbrava has a modern infrastructure at international standards. They're well organized with an administration center, shelters for horses and the equestrian base. Today, here are 100 horses from 8 breeds: Arab, semi-heavy, hutul, sport, lipitan, horse from Bucovina, gidran, pure blood English.
The Horse Storage from Dumbrava offers great possibilities for the equestrian tourism like: walks with a carriage, horse ridding, lessons for horse ridding and jumping over obstacles.
The prices are:
–          5 Euros / 30 minutes: horse ridding for entertainment
–          10 Euros / 30 minutes: carriage walking