The Musical Fountain Piatra Neamt
28 December 2009
No Comment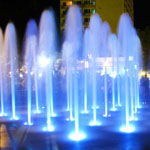 In the Tineretului Park (The Park of Youth) you can see a beautiful musical fountain that was built by following an initiative of the mayor Gheorghe Stefan. The fountain is placed where the old fountain was and it represents another great addition to the town of Piatra Neamt, next to the Cable Railway, the Ski Slope from Cozla and the Entertainment Complex "Peste Vale".
The fountain has an open surface of 225 sm and it's relatively simple: a horizontal plane made out of granite with holes and spot lights where the water goes out. A computer synchronizes the water jet and the lights to the music so that we see an effect where it appears that the water is dancing on the sound of the song. The fountain is a fun to watch, especially for kids that are so curious from where the water comes and why it has so many colors.
Every evening the musical fountain performs its show for locals and tourists. In the winter the fountain is transformed in a Christmas tree filled with lights that completes the beauty of the park where every tree and bush has its own holyday costume of light.