The Paleontological Reservation Cozla – Pietricica – Cernegura from Piatra Neamt, Neamt County
28 December 2009
No Comment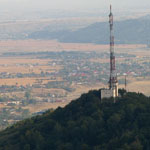 From a geological stand of point, the mountains Cozla, Pietricica and Cernegura that surround the town Piatra Neamt represent the last step of the Carpathians and they are located at the intersection between Carpathians and Sub-Carpathians. In the north part of the town we can see the hill Cozla with a height of 852 m, in the east there is Pietricica with a height of 530 m and on the south there is Cernegura with a height of 679 m.
60 million years ago, here there was the bottom of a sea where lived clamps, fishes and other organisms specific to this area. This information are confirmed by the numerous fossils discovered. Because of that these mountains were declared a protected area and became a reservation with a surface of 53 ha.
The fossil fauna present here is made out of 38 species of fossils fishes, 10 species of bivalve, one species of isopods, decapods and insects. Many of the fossils discovered in this place can be seen in the Museum of Natural Science from Piatra Neamt.