Hiking Route from Piatra Neamt to the Peak of Cernegura
31 January 2010
No Comment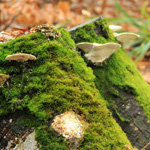 The starting point for this hiking route is located near Reconstructia Lake at the base of the Cernegura Hill, behind the Caprioara Restaurant . From here the trail goes straight up and after 5-10 minutes you reach the area where many locals come to barbecue outdoors in the summer. After the trail enters the forest and slowly you leave  civilization behind you and you will start to witness the beautiful wilderness of the place.
Cernegura Hill is located on the south-west side of Piatra Neamt and is covered by a dense forest and this makes the road to the top a little bit challenging. Although the trail route isn't marked you can't miss it and eventually it takes you to the top of the hill.
Right at the starting point of the route you'll see: beech, birch, hornbeam, oak, cherry, apple and poplar trees and after a while, near the top you may also notice fir, spruce and pine. Once you reach the top of Cernegura Hill you are at an altitude of 852 m. The trail will take you to a belvedere point where the view is truly breathtaking.
There is a small resting place where you can sit down and admire the beauty of nature and if it's a little windy you'll also smell the aroma of the fir and other conifers. On the way back you can stop at a small spring with clear mountain water.