Lace of Ice in Cheile Bicazului
2 February 2010
No Comment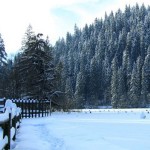 Its winter and a ride from Piatra Neamt to Cheile Bicazului and up to the lake Lacul Rosu is an opportunity that you can't pass. Cheile Bicazului represents a challenge in every season and a true display of nature's power. Although you may think that if you see it once it's enough, the reality you prove you wrong: the beauty of these places is mesmerizing because of the spectacle of rocks and heights.
The road from Piatra Neamt to Cheile Bicazului is like a photo album, where you can admire the genious of nature on winter and the beauty of the scenery. The white coat that shines on the hills and forests, the white carpets that covers the planes, the simple beauty of villages scattered on the hills sourind the road, all these accompany you until you reach the gate that enters the Cheile Bicazului.
From here you seem to walk alone through the rocks and through the icy cold. It seems that you entered a fairytale land where time stopped to look at the beauty of these places. Only the wind flies through the trees covered in sugar, leaving behind it a trail of white snow. Together with it, there is the roar of the water that fights its way through icy shores.
Winter has completely covered the rocks from the Cheile Bicazului. A lace of ice covers the rocks in incredible shapes of different colors and sizes. From place to place, where the sun rays manage to get down to the road you seem to witness a desperate try to revive all: the sun seems to try and melt the ice and to awaken the sleepy nature.


The view is more and more spectacular as you go and finally you reach the top. Here you discover a lake covered in snow and ice. Only the trees that break the ice reminds us that under the ice there is a lake where on the summer time you can take a walk with a rented boat.
The time slowly passes by and the hours that we spend admiring the beauty of the nature seem to fly. Only the cold that entered our bones determines us to get back in the car and return to Piatra Neamt where we'll stop for a mug of mulled wine and to talk about what we've seen.