Easter Lights in Piatra Neamt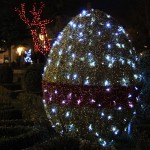 This week Piatra Neamt was dressed with ornaments and lights that remind us of the holyday that will come. Hundreds of small ornament-bunnies, lights and lots of colorful eggs were mounted on the streets.
Piatra Neamt is garnished with ornaments and lights. Every night the town offers a pleasant atmosphere and a good reason to get out and take a walk. The alleys from Tineretului Park are filled with lighted bunnies and huge eggs covered in small lights. All these attract locals and people from other towns to see how Piatra Neamt is dressed for a celebration. All these symbols are to remember us about the Christian celebration of Easter but to also announce the arriving of spring.
The town is totally transformed and it can represent a destination for your mini Easter vacation. The area and its surroundings offer numerous accommodation possibilities at reasonable prices: you can stay at a hotel right in the middle of Piatra Neamt or to a rustic mansion outside the town. This way you can spend few relaxing days, celebrating Easter, visiting a monastery or taking a hike on the mountains that surround the area.