Easter Night in Neamt County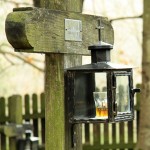 Many pilgrims choose to spend this Easter in Neamt County and witness the religious service at some of the famous monasteries that are located in this county: Agapia, Varatec, Neamt, Pangarati, Bistrita and others. Thousands of believers from all over Romania and from foreign countries came on Saturday to witness the miracle of Resurrection celebrated in monasteries and churches all over Neamt County.
The religious places were full of pilgrims that every year chose to spend the mini Easter vacation in Neamt. This religious celebration of Resurrection is the most important Christian holy-day. It commemorates the fundamental event of our religion: the Resurrection of Jesus in the third day, after His crucifixion on the Holy Friday.
Here, in Neamt County, the Easter night was special: the Holy Light, which represents the miracle of Resurrection was given to all the participants to the religious service, that said "Hristos a Inviat! – Adevarat a Inviat!" (translated "Jesus Resurrected!", "Yes, it is true, He was Resurrected!")
The entire night was lit by candles: the light spread from one person to another until everyone received the Good News:  Jesus was Resurrected. For a complete Easter experience some pilgrims decided to accommodate at the monasteries where they spend the Easter Night.