Hiking Route in Tarcau-Brates area, Batca Rachitei Peak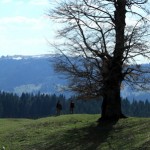 The starting point of this hiking route is at the old sandstone career from Tarcau. To reach this point you start by car on the road that goes from Piatra Neamt to Bicaz. At some point you make a left to Tarcau and you continue until you reach Brates Village. Here you'll make a right on a dirt road that goes into the forest parallel with Brates Creek.
This road takes you to the old sandstone career where you can also leave the car. From here you continue on foot to St Ilie Hermitage and Bratesul Unguresc. Don't try to hike near the sandstone career because the trail ends at an observation point for wild animals.
Continue to stay on the road until you see a sign that tells you that you have 4 more km to go to the hermitage. From there you'll make a right on the first forest-road that goes directly into the forest. Follow that road until you'll see Batca Rachitei Peak.
The climbing is not steep: the road winds through the trees until it becomes a trail that goes up through a plane on the right side of the peak. Once you get on top the view is spectacular. After a quick pause we continue along the ridge to Crucea Rosie Peak. From here the descent goes through the forest along the creek.

Continue do descent until you intersect a forest road: here you make a left and not after long you'll reach Bratesul Unguresc. From here there are about 3 – 4 km until you reach the hermitage and from that point you have another 5 km to the point where you left your car.
The route is spectacular and it transmits a feeling of returning back in time: the nature seems to be untouched in Tarcau Mountains. The few people you'll meet great you in a simple way, ask you from where you come and wish you "Health and God bless!".
The route takes about 8 hours of hard walking and the presence of a guide is required.