Romanian Touristic Fair March 25 – 28, 2010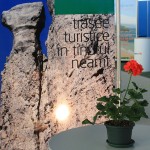 The Romanian Touristic Fair was organized between March 25 and 28, 2010 in Bucharest at Romexpo. Neamt County was present at this touristic fair and it was represented by Neamt County Council, Piatra Neamt and the Chamber for Commerce and Industry Neamt.
The themes for this year were "touristic tours in Neamt County" and "holyday at Piatra Neamt". The printed brochures with the touristic tours in Neamt were organized in a well designed case that was really appreciated by visitors as a real use for a future tourist in Neamt County. In this case there was also a brochure with the calendar of events from Neamt County like: Musical Holydays, The Fair of Folk Craftsmen or the Theatre Festival.
The official opening was Thursday, March 25 and the Neamt County Stand was visited by Minister Elena Udrea. The entire presentation of Neamt County and Piatra Neamt was organized in the form of a visual gallery with most representative images from the area.