The Opening of the Equestrian School from Piatra Neamt, April 2010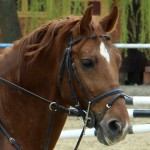 Saturday, on April 17 2010, starting with 10:00 hours at the Equestrian Complex "Virgil Barbuceanu" from Piatra Neamt took place a special event: the opening of the equestrian school and of the equestrian competitive year. With this occasion there was a demo contest of jumping over obstacles with the participation of horses from Piatra Neamt, Targu Neamt, Bacau and Iasi.
Those that were part of this event were from the surrounding counties: Bacau, Iasi and also from Neamt County. Their participation was meant to encourage children to sign up for the equestrian school. The event started with thanks from the organizers to those that helped financially the Equestrian Complex from Piatra Neamt through its existence.
The moment all waited and that was the contest of jumping over obstacles started with the participation of 2 horsemen from Piatra Neamt. The horses that were present impressed everyone with their beauty and grace but also with the ability of jumping over obstacles.
The end of the event was represented by a small musical show of folk music organized by children from schools in Piatra Neamt. The impression created by horses on all those that were present there, especially on kids, was truly a special one.
The organizers hope to have as many kids as possible signing up for the equestrian school and to tell you frankly this is our hope too. The Equestrian Complex from Piatra Neamt is accredited by the International Equestrian Federation to organize equestrian competitions like the World Cup of Jumping over Obstacles.