The Religious Collection from Agapia Monastery, Neamt County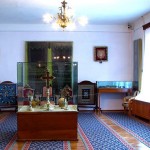 The religious museum from Agapia Monastery was built in 1927 and is the first religious museum that gathers not only religious objects but also weaves, wooden sculptures and ornaments from different areas of Romania. The exhibition is organized in 4 big rooms and 2 halls and the objects are thematically organized.
In the first room you'll see old icons from XVI and XVIII centuries, a collection of old crosses, manuscripts, old printings, a panaghiar (panaghiar is a vessel made out of silver or gold that holds an icon of St Mary), shrines, candles and other objects of historic and religious importance.

The second room of the museum is dedicated to the great painter Nicolae Grigorescu. In this room you'll see 29 original works of the painter made in the period while he was painting the church from Agapia Monastery. The objects are represented by 5 paintings, icons, procession prapur and an epitaph.

Agapia Monastery museum photos
Click the images for a a larger version
Room number three from the Agapia religious museum hosts objects like: embroideries, coverings for the Holy Vessels, a bedernita (bedernita is a religious clothing that covers the shoulders of a high priest that displays The Resurrection Scene ), embroidered icons, a curtain for the icon of St Mary, an epitaph, silver objects, sacred vessels, crosses and candles.
The forth room is the writers room where are exhibited painting and images with the houses where these writers lived. These writers are the ones that described in their works Agapia Monastery and what this religious settlement meant to them.
The religious collection from Agapia Monastery has a great religious and historical value and along with the paintings made by Nicolae Grigorescu inside the church of the monastery offers a good reason to visit this monastery from Neamt County.