Hiking in Neamt County: The Waterfalls from the Stone Piatra Altarului, Cheile Bicazului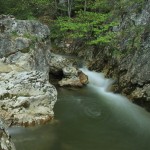 One of the most spectacular hiking routes in Cheile Bicazului starts at the Stone "Piatra Altarului": that big pointy rock with a cross on top of it. The hiking route goes through Lapos Canyon, a left side affluent of Bicaz Creek. The starting point of this route is located right after the exit from the tunnel, on the left, in the parking organized by Neamt County Council. Here you can leave your car.
Crossing the street, the hiking route starts with a red triangle marking. After a short steep hike you reach the first waterfalls created by Lapos Creek. Because of these waterfalls this route has a great photographic potential. So if you have a passion for nature photography then grab your tripod and head for Lapos Canyon to shoot these small but spectacular waterfalls.
After a while, the trail goes up to a panoramic point. From here we descent to the last portion of the Canyon, near Bardos Stone. Of course that this is also a good place to take photos of the whirling water or the vertical stone walls that surrounds you.
Once you exit the canyon, the trail will take you up to the haystacks that belong to Barnadu Village, an isolated community that lives behind the stones from Cheile Bicazului. The route goes to the left on a barren hill and reaches Saua Cupas from where you can admire the incredible view: Suhardul Mic Peak, Suhardul Mare Peak and Hasmasul Mare Peak.
When descending you have two options: either you chose to return on the red dot markings or on the red cross markings. If you chose the first option the trail will take you where you started but if you chose the red cross marking then you'll reach a forest road (or dirt road), from where you'll make a left and finally intersect the national road that goes through Cheile Bicazului, few hundred meters away from the point where you left the car.
Your effort to make this hiking route from Cheile Bicazului will be rewarded by the waterfalls from Lapos Creek and the spectacular view from Saua Cupas. The time to make this route is somewhere between 3 and 4 hours. During winter this route is very difficult to make.
Cheile Bicazului – the Stone "Piatra Altarului" – Lapos Canyon – the Stone "Piatra Bardos" – the Haystacks from Cupas – Saua Cupas (markings: red triangle). The descent is made on red dot markings. At some point the trail splits: to the left it continues on red dots and on the right on red cross. You can choose any option. The red dot will take you where you started and the red cross will take you a couple hundred meters from the place where you left the car.