May 1st Celebrated on top of Ceahlau Mountain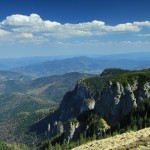 On May 1st, Ceahlau was a preferred destination for tourists that came in Neamt County: from children to elder people, all were in a good mood and happy. We also can't ignore the fact that many locals from Neamt County decided to celebrate May 1st by hiking on Ceahlau with their families and friends.
The gorgeous weather and a lot of happiness were the perfect ingredients for those that chose to spend this small holiday on the mountain. The old mountain, Ceahlau, has managed to be a perfect host and to impress his guests by his greatness and flawless beauty.
The 7 touristic routes that are marked in the National Park Ceahlau were full of people all day long. On top, Dochia Chalet was too small for so many tourists and the camping site was also full.
From here many tourists went to hike on Toaca Peak. The trail that goes to the top was filled with people dressed in so many colors. Once on top of Toaca, at the weather station, every tourist was trying to capture in a photo the incredible scenery: Izvorul Muntelui Lake, Heghes Peak, Hasmasul Mare or Durau Resort are just few touristic objectives from Neamt County that can be seen from the top of Toaca Peak.
Still, a picture is not enough to express how beautiful this place really is. If you really want to experience those touristic objectives from Neamt County you have to visit it, to hike on top of those peaks and to enjoy that special feeling you have once you're on top.
Ceahlau Mountain was like a hive this weekend. All those that love hiking had a great time and the entire atmosphere was a really pleasant and relaxed one.
To accommodate at Dochia Chalet you can use this phone number to make reservation
+(40) 729 548 900
Prices:
Room with 2 beds 40 RON/bed (40 RON is approximately 10 Euros)
Room with 4 beds 25 RON/bed (25 RON is approximately 6 Euros)
Room with 5 beds 20 RON/bed (20 RON is approximately 5 Euros)
Room with 14 – 17 beds 16 RON/bed (16 RON is approximately 4Euros)