Theatre show for Europe's Day in Neamt County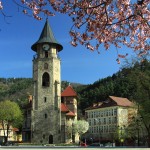 Thursday, May 6, 2010 at Tineretului Theatre from Piatra Neamt (Neamt County) it will be organized an artistic show entitled EUROPE's DAY. This spectacle will take place in the main room of Tineretului Theatre, starting with 17:00 and its motto is EUROPEANS through the diversity of traditions and customs.
Those that are responsible for organizing this event invite you to spend few minutes listening to traditional music and to see folk dances from different countries of European Union and also to admire a parade with folk costumes from different areas of the continent.
At the show will be present students from National IT College and from the Art High School "Victor Brauner", the folk orchestra Stefan Voievod from the Art High School, flute singers Madalina Luca and Adelina Chirila and also folk singers Iuliana Candrea and Alina Carnariu.
Together with those mentioned above you'll also see the folk group EuEtno that will present traditional dances from France, Germany, Italy, Spain and Greece. The folk dances group called Mugurelul will present a show with traditional folk dances from Neamt County: "Braul de la Garcina", "Hora fetelor de la Damuc", "Floricica (Bicaz-Chei)" and "Sarba de la Margineni".
The entire show is organized by "Carmen Saeculare" Cultural Center, the Agency for Regional Development North-East, National IT College, the Art High School "Victor Brauner" and Tineretului Theatre.