Hiking towards Cuejdel Lake in Neamt County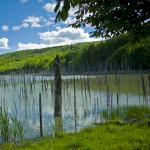 Cuejdel Lake is the biggest natural dam lake of Romania and it's located in Garcina commune, Neamt County. Although it's not that well known as "Lacul Rosu" Lake (The Red Lake), Cuejdel Lake is truly spectacular to visit.
To reach Cuejdel Lake there are two access ways: either by car to the lake or by car to a certain point and then on foot. If you want to reach Cuejdel Lake by car you go from Piatra Neamt to Targu Neamt and you make a left at Cracaoani commune on a dirt road towards Cracaul Negru and Magazia.
Location of Cuejdel Lake on Google maps with access routes
If you choose to hike to Cuejdel Lake, which is also our recommendation, you'll go by car from Piatra Neamt to Garcina commune and Cuejdel Village. At some point the asphalted road will end but you keep driving on a dirt road until you'll see a sign that says "Lacul Cuejdel 2km" (it means 2 km to Cuejdel Lake). That is the point where you get out of the car and you start hiking.

The green grass, the flowers that seem to overflow the fields, the powerful blue sky form a perfect picture for you to admire while you hike to Cuejdel Lake. After that the road takes you into the dark pine tree forest where the sun rays struggle to find their way through the thick branches of the trees.
Your only companion on this road is a creek that flows along the trail. The sound of the water is like a strange song of the forest and the beauty of the path which looks like a tunnel covered by trees makes you forget about the time. Soon, in front of your eyes you'll see Cuejdel Lake.
Located into the heart of the forest, in a wild scenery, Cuejdel Lake presents a rare beauty where hundreds of tree trunks are pointing out from the water like an unknown menace. Because of its shape, Cuejdel Lake is also known as the Cross Lake. This place is a natural reservation protected by law from 2004.


As a tourist you can hike around the lake on the dirt road that flows along the water surface. Nature worked hard on this place and you can see the results in a breathtaking scenery. Reed groves, an abandoned raft, small trees grouped in strange shapes, roots: the entire area is an amalgam of impressive elements.
The hike around Cuejdel Lake makes you wonder: how does the lake look at dusk or at dawn? For a person passionate about photography this place is like heaven on Earth. It doesn't matter when you arrive at Cuejdel Lake, in the morning, in the evening, in the middle of the day, during spring or during fall, you'll always come back with a pleasant memory and a great photo.
In your hikes try not to disturb the nature. This unique place from Romania deserves to be protected in order for future generation to enjoy that spectacular image of Cuejdel Lake.