Rodica Ciocartau – Local artisan from Neamt County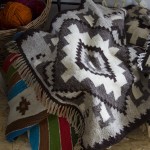 In Neamt county, Romanian folk traditions are kept alive by the skill and effort of the local artisans. These people manage to recreate objects that were once usual objects that could be found in any traditional Romanian house but now are having more an ornamental role.
Rodica Ciocartau from Pipirig commune, Boboiesti village is one of the local artisans from Neamt County that keeps alive the traditional process of making fabrics and that has her own workshop. She works with traditional tools after traditional fabric patterns. In her workshop Rodica Ciocartan created a true museum: that is why beside the working tools and the fabrics she's making you'll also see other traditional objects collected from Pipirig area.
In the workshop from Boboiesti village many traditional fabric objects are created following traditional techniques that were transmitted from one generation to another. Rodica Ciocartau is also a teacher at the Center for Art and Culture "Carmen Saeculare" and she has a class of 24 children. These small apprentices learn the basics of this craft and also represent our hope of keeping these traditions alive.

Here are some of the traditional objects made by Rodica Ciocartau and her students:
Small purses (locally called Traistute) that are made from wool, in different colors and sizes, beautifully decorated with linear geometric motives.
Carpets are created from wool by following the local traditions from Pipirig commune, in different colors and different geometric motives.
Tapestries were used as ornaments in traditional Romanian houses (and are still used in some remote communities). These traditional fabrics are made from wool worked on a traditional loom. The most encountered geometric motive is "the tree of life".
Cotton belts (locally called Braul din bumbac) represents a traditional clothing element and are made with a technique that is locally called "navadit".
Carpets are made from wool worked on a traditional loom in many colors and geometric motives. These ornamental pieces were used to cover the walls in a traditional house.


If you are passionate about folk traditions, here in Neamt County, Romania, in a small village called Boboiesti you can see the workshop of Rodica Ciocartau and witness a real piece of traditional Romanian crafts.
You can also buy different objects and this way you'll offer your support in conservation of these old and priceless techniques.
The workshop is located in Pipirig commune, Boboiesti village. To reach it you follow the road Tg Neamt – Poiana Largului and when you enter Pipirig commune you make a right to Boboiesti village. After approximately 4 km the best thing is to ask the locals. Everyone knows who Rodica ciocartau is: a local artisan from Neamt County that works to keep alive our traditions.
You can also reach her by phone: +(40) 740 671 831