Izvorul Muntelui Lake from Bicaz – recreation possibilities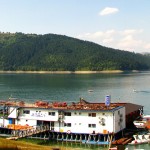 Izvorul Muntelui Lake, also known as "the sea from the mountains", is the biggest artificial lake of Romania organized on interior rivers. A dam of over 120 m high, a true artificial mountain, stops this massive 35 km lake. Izvorul Muntelui Lake is an area that offers different recreation possibilities to tourists.
Izvorul Muntelui Lake – boats, mini-cruises and motorboats
Near Bicaz Dam, there is a small port for recreation purposes. It's located on the shore of Izvorul Muntelui Lake and it's called "Complexul Turistic Naval Port Bicaz" Complex. Translated it's The Complex of Naval Tourism Bicaz Port. Here is the place where you can rent boats or motorboats to cruise on the lake and observe the beautiful scenery. You can also choose to view the lake on a mini-cruise. If you're not into water sports you can always relax in a restaurant, or accommodate in a floating hotel right near Izvorul Muntelui Lake.
The ride on the lake will offer the possibility to see some spectacular scenery: "the tunnel waterfall" that brings water from Tarcau, the mini port, Bicaz dam, Ceahlau Mountain that reflects in the waters of the lake. If you navigate towards the end of Izvorul Muntelui Lake you'll reach Poiana Largului and you'll see the small houses of Ceahlau village.
Izvorul Muntelui Lake is located in a spectacular place where nature combined in a perfect harmony the mountain and the water. "Complexul Turistic Naval Port Bicaz" Complex offers accommodation possibilities right on the lake and the following recreation services:
– recreation rides on Izvorul Muntelui lake with boats, motorboats or on the form of mini-cruises
– recreation land walks to a touristic sheepfold.
Contact information if you wish to accommodate near Izvorul Muntelui lake or enjoy their recreation possibilities:
email: [email protected]
Lebada Hotel: +(40) 233 254 036
Pescarus Hotel: +(40) 233 254 0