The Summer School from Tineretului Swimming-pool Complex is reopen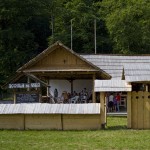 The Summer School organized at the traditional barn from Tineretului Swimming-pool Complex from Piatra Neamt is reopen for all the kids that want to find some of the secrets of painting and traditional arts.
This is the second edition of the Summer School. This entire event is organized by "Carmen Saeculare" Cultural and Art Center and it offers painting and drawing classes, weaving, pottery and sewing. The kids that will attend these classes will learn how to create a traditional pottery in Cucuteni style or how to weave traditional small carpets decorated with Neamt traditional motives.

Photos from the Summer School from Piatra Neamt, 2010
The Summer School will be open between July 15 and July 30, 2010. Four teachers are working hard to make sure that the kids attending to the summer school classes will learn something valuable. These teachers are: Lacramioara Gheghici, Arcadie Raileanu, Rodica Ciocartau and Angel Colibaba. The fee for participating to the Summer School is 50 Ron/kid (aprox 12 Euros). The students of the Art Folk School can attend these courses for free.
This activity represents a wonderfull alternative for kids and a fun way to spend some time at Tineretului Swimming-pool Complex from Piatra Neamt.
The number of kids that listed for the Summer School classes is greater than last year. We want to encourage this type of activity that has as result a better knowledge of our Romanian essence. That's why we recommend you to go to Tineretului Swimming-pool Complex to see what the Summer School is all about: you'll be impress for sure!