Neamt Monastery museum
16 August 2010
No Comment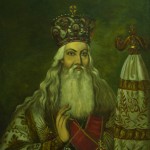 Neamt Monastery, the oldest monastery from Neamt County, hosts a very important religious collection both for the religious culture and art as well for the national culture.
The museum displays cult objects made out of precious metal, embroideries, fabrics, wood sculptures all made by the monks from the monastery or that were received as gifts over time from different rules. All these objects contain important historical information about our past and our traditions.
Because of its wealth, Neamt Monastery was a target of many attacks. Despite the odds, the monastery survived and remained an important center of medieval culture that keeps in its museum an important part of our National Cultural Heritage.
The oldest manuscripts exhibited in the museum are dated to the time of ruler Alexandru cel Bun (1400 – 1432). The objects from the museum can be classified in more categories: manuscripts and printings, paintings, sculptures, religious objects made out of silver or silver covered with gold, clay objects, wood and metal engravings, robes and objects used in different religious services, covers for the Holly Vessels, bells and seals.
In the museum of Neamt Monastery you can also see the oldest art object of religious sculpture from Moldova: the iconostasis from the church from Neamt Stronghold, which has paintings dated to XV century. Here are some other valuable objects that you can see in the museum of Neamt Monastery: a filigree panaghiar from 1750 (panaghiar – is a holy vessel that holds a small icon that has the face of St Mary painted on it), a replica of the Holy Grail received as a gift in 1748 from the daughter of Tar Petru, the Slavonic Evangelic from 1759 that weights 35 kg, a Holy Cup from 1767, an epitrahil from 1470 and a box with Holy relics (the Head of St Simeon).
This entire collection of religious objects is just a small portion of what Neamt Monastery had and still represents an important place that illustrates the cultural and historical role that this monastery played over time.
Read more information about Neamt Monastery (history, attraction points, images, video and its hermitages).