The Cypriot Icon from Secu Monastery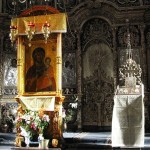 The most important icon from Secu Monastery is the Icon of St Mary, Mother of Jesus from the main church of the monastery. This icon was a gift from ruler Vasile Lupu in 1647 as a sign of respect to Mitropolitul Varlaam (Mitropolit is a high religious position). The icon suffered many modifications and restorations over time and can be found in the main church from Secu Monastery.
The icon was brought from Cyprus Island and is known as the Cypriot Icon. Between 1647 and 1718 the icon could be found in St Nicolae Church from Neamt Fortress, a church that was religiously administrated by Secu Monastery. Neamt Fortress was destroyed in 1718 by orders from Turks, in the time of ruler Mihail Racovita. This was the reason for which the most important religious objects that belong to St Nicolae church were brought to Secu Monastery.
The Cypriot Icon was placed in 1758 in St Nifon Church and then brought to the Cemetery Church where it stayed until 1876 when it was moved in the main church from Secu Monastery where it can be seen today. In 1879 the icon was framed in silver by Nicolae Albu and his wife Maria.
The most important restoration period was between 2003 and 2005 when they decided to remove the silver frame that was obscuring the beautiful details of this religious art piece. The restoration team was from Putna and Sucevita monasteries. Starting with 2005 the Cypriot Icon was brought back to Secu Monastery.
These days, the Cypriot Icon can be seen at Secu Monastery where it's visited by thousands of pilgrims that come here to pray and to see this priceless piece of religious art.