Agheazmatar Building from Neamt Monastery
27 September 2010
No Comment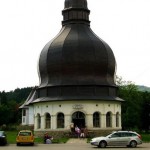 Agheazmatar represents the place where priests make Holy Water. This building is located at Neamt Monastery outside the walls, in front of the bell tower. It's worth talking about this building because of the interesting architectural shape and impressive proportions. This building was created between 1836 and 1847 and it's called Agheazmatar.
The building has a height of 30 meters and a unique shape of the roof in the form of an Orthodox religious head-cover (we call it "mitra"). At the interior, in the middle of the construction, there is a small stone pool created by the stone worker N. Legherhaus.
Between 1974 and 1977 the painter Theodor Varahil Moraru from Piatra Neamt painted the interior of the building in fresco under the guidance of two abbots of Neamt Monastery: Theodor Norocel and Efrem Chiscariu.
The building is still used at great Orthodox Holydays such as "Inaltarea Domnului" (The Raise of Jesus) and "Pogorarea Duhului Sfant" (The Descent of the Holy Spirit) to prepare the Holy Water. The building is an important part of the architectural complex from the religious settlement of Neamt Monastery.
In 1999, Agheazmatarul Building was covered in copper sheet which sets this building apart from others because of the size of the roof. In the same year the interior was reorganized to host the St Ioan Iacob of Neamt Library. Visitors can find here a center of Romanian religious culture represented by theological books, religious icons and other religious objects.
Read more information about Neamt Monastery (history, attraction points, images, video and its hermitages).