Duras Waterfall from Negulesti village, Neamt County
15 September 2010
No Comment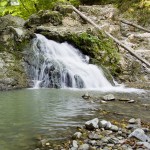 In order to see Duras Waterfall from Negulesti village, Neamt County you'll have to go by car from Piatra Neamt towards Bacau. In Roznov you'll make a right towards Tazlau and after the first bridge another right to Piatra Soimului commune. This commune is formed by the following villages: Piatra Soimului, Negulesti, Luminis and Poieni and it's located at the intersection between Tarcau Mountains and Cracau – Bistrita sub-Carpathian depression.
In Piatra Soimului commune you can also see the ruins of Horodistea Fortress which is a proof that life had a continuous flow in this region since Neolithic times. Another important attraction of this place is represented by Negulesti Resort. This resort is located in a beautiful area famous for its healing waters.
Duras Waterfall is another touristic attraction from Negulesti village. The waterfall is located on Iapa Creek. The scenery is truly beautiful in this place where two creeks, Iapa and Calu framed by picturesque forests create a special scenery.

Photos of Duras Waterfall from Negulesti, Neamt County
Duras waterfall is located about 4,5 km from Negulesti Resort on Iapa Creek. The road starts in Negulesti Resort and continues towards "Ocolul Silvic Frasin" Forest Bureau where you'll find a wooden barrier. From here at about 300 meters on the left, among the trees you'll see the spectacular sight of Duras waterfall. To reach the waterfall you'll have to descent a pretty steep slope and cross the water.


From Duras waterfall you can also continue on the dirt road until you'll reach Veselarul Lake (about 3 km away from the waterfall) with a surface of 3500 square meters. This is a natural dam lake where you'll have the chance of viewing an unique and spectacular scenery.