Stefan cel Mare Tower from Piatra Neamt
3 September 2010
No Comment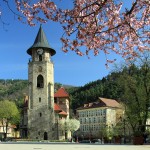 The Bell-Tower (also known as Stefan cel Mare Tower) located north-west from "St Ioan Botezatorul" Church is part of a bigger architectural complex called "Curtea Domneasca" (in a direct translation would be The Royal Court) and was built as a necessity in 1499 a year after the construction of the church.
The tower, as well the entire architectural complex, represents a true landmark for Piatra Neamt and it looks almost like in its first days without many modifications. This small fortress, build out of hard stone with four counterforts that emphasizes the slim profile, impresses through its proportions and architectural details.
The tower from "Curtea Domneasca" Architectural Complex from Piatra Neamt has the shape of a prism with a height of 19 m that served as a refuge and a defense point against invaders. At ground floor there is a semi-cylindrical vaulted room with two small windows on the south and west walls. The access to this room is made through a direct entrance.
At the first floor the access was once made through a mobile stair that was replaced with a fixed metal one. The bell chamber can be reached on an interior stair. The guarding-turret was added during the modern age.
The façade of Stefan cel Mare Tower was decorated with small discs made out of terracotta that was glazed and colored. Truly special is also the bell room that looks like a semi-spherical vault because of the architectural arched elements. The bell room has 4 bells of different sizes.
The biggest bell was made in XVII century and has a unique sound, another bell was made in XIX century and the other two are from 1979 and were created by the local artisan Damian from Targu Neamt.
Many years Stefan cel Mare Tower from "Curtea Domneasca" was the tallest building in Piatra Neamt. Because of this reason, during the XIX century, on top of the tower was added a room for "fire watchers".
In 1861 on top of the tower was added a clock that was then changed in 1920 with the one that we can see today. Stefan cel Mare Tower represents the symbol of Piatra Neamt and also a heritage of our history.