The Restored Rooms from Neamţ Fortress
11 October 2010
One Comment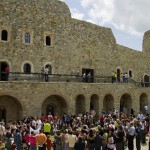 After the restoration process, Neamţ Fortress has become a medieval museum and its rooms show moments of how the life in this place used to be. The stronghold is first mentioned during the ruler Petru Muşat. In 1717 the entire medieval complex was destroyed by ruler Mihai Racoviţă on orders from the Turks. Today, in the 21 spaces of Neamţ Fortress that can be visited you'll have the feeling that you're traveling back in time and you're witnessing moments of history.
The restoration process lasted for 2 years. The result is a local touristic attraction that receives thousands of visitors each summer. Here are some of the most important rooms of this medieval complex:
"Sfantul Nicolae" Chapel was the place where people living in Neamţ Fortress used to pray and where the religious services were held. The old chapel was beautifully restored and the visitors have the chance of saying a prayer in the same place where the rulers of Moldova used to pray.
The Judgment Room was decorated in such a way that the old atmosphere is present in every object: wooden chairs, a long wooden table, an armored knight ready to intervene and five soldiers in military clothes. On the walls of this room you'll see shields, swords and spears.
The Store Room, were they used to store the supplies it's full with barrels, hemp bags with "food" and dried plants. Right near this room you'll see the Dining Room where you'll observe old ovens and traditional pottery used for serving the meal.
The Jail from Neamţ Fortress, also known as "the black prison" it's the place where they kept the military prisoners and criminals from that period. Here, the few villains with long beards, dirty and torn clothes make you feel the dark atmosphere that was in this place. The villains are in chains and on the floor covered with straws you'll also see roaches, spiders and mice.
The Monetary Room is where they used to create the copper coins. Here you'll see a small exhibition with coins from different historic periods.
On the walls of the restored Neamţ Fortress you'll also see photos and information about the old strongholds from Moldova region. The objects displayed will offer to visitors a glimpse of what life used to be when Stephen the Great ruled in Moldova.