"Fereastra in Timp" Exhibition of artist Arcadie Raileanu in Piatra Neamt
25 November 2010
No Comment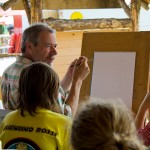 On November 26, 2010 at 17:00 in Piatra Neamt will take place an anniversary exhibition of the artist Arcadie Raileanu, called "Fereastra in Timp" (translated: Window through Time). The exhibition will present the work of the artist from 2008 to 2010. You can admire the paintings at the Gallery of the Art School from "Piata Mihail Kogalniceanu" Plaza, bl H4, ground floor.
The painter Arcadie Raileanu works in Piatra Neamt for over a decade. Starting with 2006 he became the coordinator of the painting class of the Art School of "Carmen Saeculare" Cultural and Art Center from Neamt. Born in 1950 in Moldavian Republic, the painter Arcadie Raileanu followed the courses of the Art School "A.V. Sciusev" from Chisinau. He studied drawing, painting, composition, art history and sculpture.

Panting exhibition in Piatra Neamt by Arcadie Raileanu, Neamt County
Starting with 1968 he follows the courses of the Faculty of Architecture from the Polytechnic Institute from Chisinau. Between 1973 and 1975 he studies modern art at the Ermitaj Museum from Sankt Petersburg. In 1978 he becomes the architect of Floresti County from Moldavian Republic. Three years later he moves to Donduseni and he becomes the director of the Art School for Children, from this town.
From 1987 Arcadie Raileanu becomes a member of the Artists Union from Moldova. He came to Piatra Neamt in 1989 and in 2004 becomes a member of the Artists Union from Romania. Over time the painter Arcadie Raileanu participated in many personal and group exhibitions from Ramnicu Valcea, Balti, Piatra Neamt, Craiova, "Arta Lemnului" Museum from Campulung Moldovenesc, "Tonitza" Galleries from Barlad, Tineretului Theatre from Piatra Neamt or "Tudor Jarda" Art School from Cluj Napoca.
The exhibition from Piatra Neamt, entitled "Fereastra in Timp" (Window through Time) from the Gallery of the Art School will remain open for two weeks.