Icoana Noua Hermitage from Neamt County
10 November 2010
2 Comments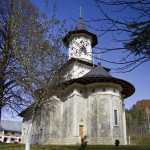 "Icoana Noua" Hermitage it's under the administration of Neamt Monastery, which is the oldest monastery from Neamt County and it's located in the place called "Valea Icoanei" (The Icon's Valley). The origins of this hermitage are from 1941 at the initiative of father Vasian Iosub (the abbot of the hermitage from 1946).
The first sanctification service was performed on May 6 1951 for a chapel that also has in it few cells. The chapel's patrons are "Schimbarea la Fata" (The Transfiguration) and "Nasterea Maicii Domnului" (The Birth of St. Mary).
Google Maps location of the hermitage
The iconostasis of the chapel is a wooden sculpture and painted by painter Procenco. The interior of the chapel was painted in 1990 by Dumitru Gabor. The abbot of the hermitage tried over time to build a church but the communist regime stopped him. With all this opposition, in 1972 he managed to build a bell-tower. At the first floor of this building was created a small chapel with the patron of St Dimitrie. The interior of this chapel was painted in 1984 by Bartolomeu Florea.

Images from Icoana Noua Hermitage, Neamt County
What's special about this chapel is the candelabrum made out of some antlers the monks found in the surrounding forests. At the entrance of the bell tower you'll see the tomb of Vasian Iosub, the founder of Icoana Noua Hermitage.


In 1991 the monks from Icoana Noua Hermitage managed to build some new cells and the main church of the hermitage. The church was build between 1994 and 2001 in a traditional architectural style. The exterior walls are white and covered with rocks from the nearby creek. The interior of the church was painted between 2000 and 2005 by Ciuhureanu Tudorel. The pews and the iconostasis were sculpted by Mihai Croitoru.
The hermitage is growing with the help of pilgrims and Neamt Monastery. Right now, the monks from Icoana Noua are building a guesthouse with its own chapel that will accommodate pilgrims that come here to pray or just to experience the life in a monastery.
At Icoana Noua Hermitage live 4 monks that are responsible for the religious life and administrating the place. Many pilgrims come to this hermitage for the peace they find here, deep in the forest. Visit this special place and see for yourself!