Maria Mihalachi – Local Artisan from Baltatesti Commune, Neamt County
13 December 2010
One Comment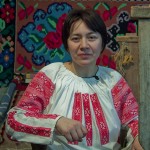 In Baltatesti Commune from Neamt County the craft of weaving is carry on by the local artisan Maria Mihalachi. Neamt County has a multitude of traditional crafts and also people willing to keep it alive. One of the crafts for which Neamt County is famous is the craft of weaving.
This old tradition from Neamt County spread mainly because of an old folk custom according to which the bride had to offer at the wedding carpets handmade by her. This is why this craft evolved inside the traditional Romanian houses and is seen as the work of women's hands.
Google Maps location of Maria Mihalachi's workshop and store
The local artisan Maria Mihalachi creates in her workshop fabrics that can be used on the daily jobs but also ornamental fabrics that "dress" the interior of a traditional house. All the fabrics created, beside the ornamental purpose, also had a real use by keeping the house warm. The compositions of these fabrics use traditional geometric shapes or stylized representations.

Local Artisan Maria Mihalachi, Baltatesti commune, Neamt County
Maria Mihalachi creates everything by using a traditional technique: she's weaving at a horizontal loom, by using natural wool painted with plants. The process of painting the wool follows old traditional recipes of obtaining the colors through the use of leaves, flowers, bark, roots and sometimes minerals.
Here are some of the objects made by Maria Mihalachi:
"Laicerul" – this is a traditional carpet that in the old days used to cover the floor or walls of a traditional house. The fabric is made out of wool and the ornaments are geometric shapes in stairs, the lifeline doubled by solar symbols.
"Covorul tesut cu arborele vietii" ("The Carpet weaved with the tree of life") – this fabric is made of wool and has Greek influences. The tree of life is represented in the middle of a vessel, symbolizing the equilibrium between good and evil. The branches of the tree are decorated with solar symbols and also cross symbols.


"Traistutele" ("Small weaved bags") – these objects are made of wool and in the old days were used to carry different light things (just like a present day hand-bag)
Tapestries – these fabrics are created with a decorative purpose and they used to cover the walls in the old traditional houses. The finishing touches of these fabrics were made through the use of crochet and knitting.
Carpets (small or big) – in these days are used as decorations but they used to cover the floors in front of the bed. The ornaments are colorful and use different traditional geometric shapes.
All these objects are handmade by the local artisan Maria Mihalachi and can be found at her store from Varatec Monastery (vis-à-vis the bakery of the monastery).
You can also contact Maria Mihalachi by using one of these phone numbers 0040724365313, 0040728028423, 0040233244458 or this e-mail address [email protected]