The 2010 – 2011 Ski Season from Piatra Neamt is now open
29 December 2010
No Comment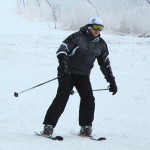 The weather from the last days, together with the snow that fell and the low temperatures made possible the opening of the 2010 – 2011 Ski Season in Piatra Neamt. The ski slope from Cozla Hill in Piatra Neamt was reorganized and the artificial snow canons are placed along the slope since the beginning of this week. The protection systems from the base of the slope were also improved. The ski slope is now ready to receive all those that love winter sports.
The chairlift is working and the arriving station of Telegondola was also reorganized for commercial purposes. The ski slope from Cozla Hill in Piatra Neamt has a medium difficulty with a maximum of 22 degrees of slope. It is advised that beginners to wear the complete safety equipment when using the ski slope.
This year you can buy ski-passes for half a day or for 2, 3, 4 and 7 days. You can also buy point-cards. The points can be used to access the ski slope or to use the chairlift, the tubbing installation or the Telegondola.
Update with the program and fees
The program of the chairlift
Monday: 13:30 – 20:00
Tuesday – Friday: 10:00 – 20:45
Saturday – Sunday: 9:30 – 21:00
The program of the Telegondola:
Monday: 12:30 – 20:30
Tuesday – Friday: 10:00 – 21:00
Saturday – Sunday: 9:30 – 21:30
Fees:
Telegondola = 16 ron/adult, 10 ron/child
Chairlift = 10 ron/adult, 6 ron/child
Access card for Telegondola and chairlift between 10:00 – 15:00 = 50 ron/adult, 40 ron/child
Access card for Telegondola and chairlift between 15:00 – 21:00 = 60 ron/adult, 50 ron/child
Access card for Telegondola and chairlift for 1 day: 90 ron/adult, 60 ron/child
Access card for Telegondola and chairlift for 2 days: 155 ron/adult, 105 ron/child
Access card for Telegondola and chairlift for 3 days: 220 ron/adult, 145 ron/child
Access card for Telegondola and chairlift for 4 days: 285 ron/adult, 185 ron/child
Access card for Telegondola and chairlift for 5 days: 340 ron/adult, 220 ron/child
Access card for Telegondola and chairlift for 6 days: 395 ron/adult, 250 ron/child
Access card for Telegondola and chairlift for 7 days: 440 ron/adult, 275 ron/child