The Snow Festival from Durau between January 29 and 30, 2011
28 January 2011
No Comment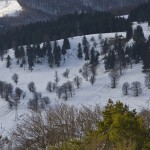 Saturday, January 19 starting with 13:00 hours will take place the official opening of the event "Serbarile Zapezii" (The Snow Festival) in Durau resort, Ceahlau commune. The event will take place on the ski slope from Durau, in a plane called by the locals "Poiana Cailor" (The Plane of Horses).
The snow festival will take place in the days of January 29 and 30, 2011. Those that will be present at this festival will enjoy for sure the contests from the ski slope: ski, sledge, bobsleigh and snowboard. Those interested in participating at the contests can enroll on the ski slope from Durau.
We are happy to see that this week winter made a great return: the ski slope is ready for tourists that will be impressed for sure by the pleasant atmosphere. The organizers of the Snow Festival from Durau are offering music, a light show, lasers, fireworks and a concert.

Photos from the Snow Festival in Durau 2011, Neamt County
Among the artists that will perform there are: Ciro de Luca, Anne Marie, Mariu Gaianu, Alexandru Recolciuc and the bands Music Impact and Grupul Voces. The show will also include a special recital by Aurel Moldoveanu that will sing "Blestemul Iubirii" (The Curse of Love) and "Luna – regina tiganilor" (The Moon – queen of the gypsies).
The Saturday evening will end with a firework show. The organizers of the event, Ceahlau commune Hall invite you to participate at the Snow Festival and to enjoy two days of fun and joy.