Visit Neamt monasteries during winter
11 January 2011
2 Comments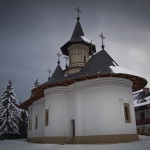 A trip to the beautiful monasteries of Neamt County is always a great experience, especially during winter, when everything seems to be a fairytale scene. This is the same winter that is described by poets in their lyrics only better because now you can see it for real.
The Orthodox monasteries from Neamt County are located in places of rare beauty and represent a legacy that transcends time. Monks and nuns that live here like in the old days will welcome you and teach you about spirit and the power of praying.
Agapia Monastery, followed by Varatec, Secu and Sihastria are located in Vanatori Natural Park. Each time you visit one of these monasteries you'll feel a special silence. And during winter the frozen atmosphere makes it more special. This is the ideal place to accommodate, to admire nature and to hike in the outdoors of Vanatori Natural Park.
The narrow streets of the villages Agapia and Varatec (these villages are inhabited entirely by nuns), the traditional houses covered in snow, the trees with their frozen branches, a bird eating the last apples from a tree will impress you for sure. Forget about your worries and take a walk on these streets where time seems to stand still. The snow covers the entire area: only the smoke of the chimneys moves in this winter painting.

Neamt Monasteries during winter
If you'll stop on the road that goes from Secu Monastery to Sihastria you'll have the chance of taking great photos of the wild waters of Secu creek: the snow, the small ice bridges, the water, all these elements offer great composition opportunities. If you visit the monasteries from Neamt County during winter take your camera with you: the photos will impress everyone for sure.
Winter is a beautiful season but in the mountains this season has something special. That is why a trip to a mountain area during winter will help you lose stress and also enjoy some spectacular places. Come and visit the monasteries from Neamt County, take outdoor walks in Vanatori Natural Park and experience something special: a spiritual escapade from the world!