Visit the two bison calves from Vanatori-Neamt Nature Park, Neamt County
26 January 2011
No Comment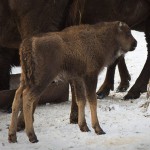 Vanatori Natural Park from Neamt County is the place where you'll also find "Dragos Voda" Bisons and Carpathian Fauna Reserve. Here there are 30 bison protected by law: 6 of them can be visited in the reservation, where you can also see other animals specific to the Moldavia area and the rest of 24 are in an acclimatization pen that stretches for over 180 ha in Vanatori-Neamt.
In January 2011, two bison calves were born here, which is considered to be an anomaly by specialists. They believe that captive animals manifest different behaviors and this is the reason for this event in January. Because of the fact that the two cubs were born inside the reservation, following an international convention, their names start with the prefix of the country. That is why the two calves were named Robobi (the male) and Roana (the female).

Photos with Bisons in Vanatori Nature Park, Neamt County
These two calves are now the main attraction of Vanatori-Neamt Nature Park and more and more visitors come here to see them. The animals can only be seen in the presence of their caregivers, inside the acclimatization enclosure that is located nearby the Administration of Vanatori-Neamt Nature Park, where they live with the other 22 bisons in semi-wilderness conditions.


In three years time, with financial assistance from the European Fund for Regional Development, there is a project having as a main objective to ensure a healthy environment where the bisons could evolve in adequate natural conditions.
Starting this year, the administration of Vanatori-Neamt Nature Park will release a group of 5 bisons in an area from Cracau Valley, at 5 km away from the farthest human settlement. This is an absolute premiere for Romania, where no bison had lived in the wilderness for more than two centuries.