Open Snowboard Parallel Slalom Contest – first edition Piatra Neamt 2011
23 February 2011
No Comment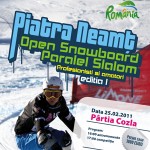 Friday, February 25 2011, starting with 16:00 we invite you on Cozla ski slope from Piatra Neamt to witness a snowboard competition of slalom. The competition is dedicated both to professionals as well to amateur riders and its organized with the support of Piatra Neamt Town Hall. We invite all those that love winter sports to participate to this event and to have a great time.
This contest is part of a series of winter events organized on Cozla ski slope from Piatra Neamt, that challenges all those that love extreme winter sports to push their limits. After last week, when we watched the tricks performed by some of the best snowboarders from Romania in a competition called Snowboard Big Air Contest, we expect a new great show this Friday.
The contest will challenge the participants to try new tricks and to push their limits in some extreme moments. The total value of the awards is 1000 Euros in cash, for which snowboarders will have to do their best to impress the crowd.

Photos from Snowboard Parallel Slalom from Piatra Neamt – 2011
Those interested in participating can enroll to the following phone numbers 0040.720.815.823 or 0040.753.874.214 or by sending an e-mail to this address [email protected].


The organizers of the event Open Snowboard Parallel Slalom from Neamt County invite riders to participate and people to witness a great show on Cozla ski slope from Piatra Neamt.