Traditional food products and Martisor Fair in Piatra Neamt
25 February 2011
No Comment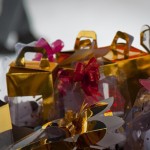 Between February 24 and March 1st, 2011, in the Central Market from Piatra Neamt will take place a Traditional Food Products and Martisor Fair. The celebration of martisor is an old Romanian tradition that lasts for more than 2000 years.
Although there are many stories that talk about the significance of martisor, this messenger of spring, made from two strings – one white and one red – is usually worn at the beginning of spring for health, good luck and protection. That is why, every year, at the beginning of March, Romanians give martisoare as gifts, celebrating the arrival of spring.
Beside martisoare made by artisans, you'll also see traditional food products, from different areas of the country. All the products are carefully selected and are the result of traditional food recipes.

Photos from the Traditional Food Products and Martisor Fair from Piatra Neamt – 2011
The food products, meat, cheese, sausages, are all made following old recipes transmitted from one generation to another. Of course that visitors will also have the possibility to buy flowers, symbols of spring.
The organizers of this event, Piatra Neamt Town Hall, The Town's Investment Company Urban SA and The Industry Chamber of Neamt County, invite you to participate at the event, to enjoy the traditional products and to help preserve Romanian traditions.