Izvorul Muntelui Chalet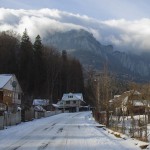 Izvorul Muntelui Chalet from the base of Ceahlau Mountain was built on the spot called "La Chilii" (Cellars) where in 1920 there were some cellars that belonged to monks. In that period of time Izvorul Muntelui Creek was difficult to access because of the big rocks and the thick forest. After that, at the base of Ceahlau Mountain there were few huts that belonged to a group of people that used to exploit the wood under Ocolosaul Mare Peek from Ceahlau.
After 1933 they built a forest district building with two chambers. They call it "Adapostul Anania" (Anania Shelter) or "La Canton". This was also the place where tourists used to rest before hiking on Ceahlau Mountain. At the intervention of Priest Constantin Matasa they extended the existed building with two more rooms where they could accommodate tourists.
The actual Izvorul Muntelui Chalet was constructed around the forest district building. Because of the rising number of tourists, in 1940 under the guidance of the same priest C. Matasa they build a bigger chalet. During war the number of tourists dropped and the chalet is damaged.
Izvorul Muntelui Chalet was organized in 1950 when a new building with 65 accommodation places was ready to receive tourists. Starting with 1957 the access to the chalet can be made on a dirt road that was covered with asphalt in 1970.
Because of the dirt road more and more tourists came to hike on Ceahlau Mountain from Izvorul Muntelui Chalet: this was the reason for building a first floor. The chalet represents the second access gate to Ceahlau Mountain where tourists can come and enjoy the beautiful sceneries of the mountain and can hike on one of the 3 mountain routes that start here: "Lutu Rosu", "Poiana Maicilor" Plane and "Jgheabul cu Hotaru".