St Teodora from Sihla Cathedral, Neamt County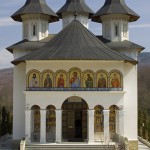 The Cathedral "St Teodora from Sihla" is located in the inner court of Sihastria Monastery and it's dedicated to St Teodora that lived in Sihla Mountains and was canonized as a saint in 1992. The monks from Sihastria built this church with the intention to bring here the holy relics of St Teodora that are now in Kiev.
The construction began in 1995 with the help of Orthodox believers and pilgrims and ended in 2005. The painting of the cathedral is made in a fresco style and was realized by monks from Sihastria Monastery, under the guidance of father Vartolomeu Florea, a well known church painter.
From an architectural stand point, the church has a central tower located above the nave and two smaller towers one on each side. The interior of the church has the usual delimitations with nave, porch and altar. The entire cathedral has impressive proportions with a length of 42 meters and a maximum height of 36 meters.

St Teodora from Sihla Cathedral in Neamt County
The entrance in St Teodora's church is made from the west side through an entrance bordered by religious icons made in a mosaic style. The interior is impressive with 10 big white marble columns sustaining the arches of the church. The access into the porch of the church is made through an impressive massive bronze door.


The altar of St Teodora's church from Sihastria is separated by an iconostasis made from massive oak wood that was sculpted by Costica Moroiu from Bucahrest. Under the main church there is also the Chapel of St Victorian and All Orthodox Saints, a place characterized by simplicity and calm. This is also the place where monks come to pray in silence.