The Easter Light in Neamt County
20 April 2011
One Comment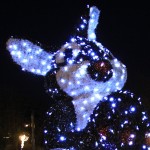 Just like every year, Piatra Neamt is dressed in light for this special holiday that is to come: the celebration of Easter. The streets are decorated with small lights that illuminate the night as a sign of the event that is to come.
This custom of decorating the town with modern Easter symbols became a tradition in Piatra Neamt that is offering to tourists and local people a great atmosphere every night.
This year ornaments that decorate the town are 20 tridimensional figurines, giant rabbits, huge lighted eggs, 112 light panels, 184 bidimensional figurines and approximately 9500 meters of lighted garlands.
The lights are placed in the center area of the town, in Mihail Kogalniceanu Plaza, in Stefan cel Mare Plaza, on the main streets, Mihai Eminescu and Republicii and also in the neighborhoods of Piatra Neamt.

Easter lights in Piatra Neamt 2011 in Neamt County
The lights will be present for almost 6 weeks, starting with the Orthodox celebration of the entrance in Jerusalem of Jesus and up until His Heavenly Ascension. Since the lights were installed, every night makes the town of Piatra Neamt looking special and up to the height of other touristic locations from Romania.
Tourists that want to spend the Easter holiday in Neamt County are welcome to come and visit the monasteries, to accommodate and also enjoy some traditional Easter food products.