Neamt County hosts the Romanian Cycling Cup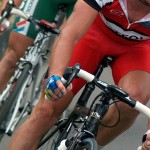 Between May 5 and 8, 2011 in Neamt County will take place the Romanian Cycling Cup. The competition is organized for all ages and will be held in four stages. Neamt County was the perfect choice for this event because of the excellent conditions offered for this kind of competitions. Each day of the event will consists in one stage, from which two will be held on longer distances and two will by sprint races, on smaller distances.
At this competition will participate 45 sportsmen from Romania, The Moldavian Republic and from Bulgaria. The event is organized by the Cycling Federation with the support of Piatra Neamt Town Hall, the Sport and Youth Organization from Neamt County, Neamt County Police Department and SC Publiserv Piatra Neamt.
Piatra Neamt has 6 participants enrolled into competition: Cosmin Stoleriu, Daniel Cojocariu, Stefan Ilisei, Vlad Rusu and Razvan Ilisei.

Romania's Cycling Cup 2011 in Neamt County
The schedule for the Romanian Cycling Cup:
May 5 – 10:00 – Stage 1
The start will be at "Sala Polivalenta" from the exit toward Roman from Piatra Neamt. The route is circular and has a length of 74 km. The participants will return in Piatra Neamt in front of Condor Motel.
May 6 – 10:00 – Stage 2
This is a sprint stage on the road from Girov to Roznov. The race has a length of 16 km and its circular (they'll return on the route Girov – Dumbrava Deal)
May 7 – 10:00 – Stage 3
This is the longest stage of the competition and has a length of 84 km. The starting point will be at the Dinasty shop on Street 1 Decembrie 1918, at the exit toward Targu Neamt. The route will go through the following points: Piatra Neamt – Garcina – Dobreni – Oslobeni – Cracaoani –Baltatesti – Agapia. The returning route includes Cracaoani – Poiana Cracaoani – Negresti. The arriving point will be at the small chapel where the road from Piatra Neamt to Targu Neamt intersects the road that goes to Almas Monastery.
May 8 – 10:00 – Stage 4
This stage will take place inside Piatra Neamt on a circular route Tineretului Theater – Casa de Cultura – The History Museum – Ceahlau Hotel. The route has a length of 38.4 km and will consist in 24 laps.
The award festivity will be in front of Tineretului Theater. The organizers of this event invite all of you to participate to this competition and support all the participants.