Roman's Days and the Local Artisans Fair (May 17-22, 2011)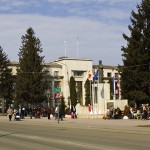 Between May 17 and 22, 2011 in "Piata Roman Voda" Plaza from Roman will take place the second edition of Roman's Days and the VII edition of the Local Artisans Fair.
During this second edition of Roman's Days will be organized contests, shows, small fairs and eco activities. The events will take place in different areas of the town as well in some cultural local institutions. With this occasion a new museum will be open for public and that is "Casa Hogas" (The Hogas House).
The house hosts three museums: The Ethnographic Roman Museum, the Cultural – Educational Museum and the Ecumenical Museum of Roman's Spirituality. All these museums will offer to visitors an image of the local traditions, culture and customs.
The organizers of the VII edition of the Local Artisans Fair are The Town Hall of Roman, the Local Artisans Association from Moldova region, the Ethnographic Museum of Moldova, "Hanul Ancutei" Foundation (in partnership), The Local Artisans Association from Neamt County and the Urban Anthropology Association from Romania.

Roman's Days 2011, Neamt County
At this edition will participate 50 local artisans dressed in traditional costumes specific to their area. You'll see ceramics, sculptures and religion icons, weaves, painted Easter eggs and other art objects.
The purpose of this fair is to keep alive our traditions, to encourage young people to practice these old customs and to educate the public in the spirit of traditions and good taste.
The organizers of this event invite you to participate at Roman's Days and to the Local Artisans Fair in the center of Roman.