The Art Exhibition of the Art School of Piatra Neamt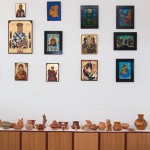 The opening of this exhibition took place on Thursday, June 16, 2011 at the gallery of the Art School from Mihail Kogalniceanu Plaza, bl H4, ground floor. This exhibition represents a tradition for the Art School and summons the best art works of the students from the school. The works are made during the last year of school.
The exhibition presents paintings and ceramics. Some of the best students of the Art School, that is part of "Carmen Saeculare" Cultural and Art Center, present their works to the public: Paula Pasalau, Ancuta Gaucan, Gega Marin, Roman Florentina, Teodorescu Corina, Teodorescu George, Ovidiu Slatineanu and Elida Rotaru.
Two of these artists participated at the fourth edition of the National Contest of Art "Ion Irimescu". Ovidiu Slatineanu was awarded with the third prize at the painting section and Elida Rotaru won the special prize at the same section.

Carmen Saeculare painting exhibition, Neamt County
The Art School from Piatra Neamt represents a chance for kids and adults of all ages to develop their artistic talents or to experience a glimpse of what art means. Every year over 120 students participate to the courses organized by the Art School. At the end of every year the best art works are exhibited in a similar exhibition. The current exhibition is open for public for two weeks, from Monday to Friday, between 09:00 and 17:00.