The Art Gallery "Era" from Piatra Neamt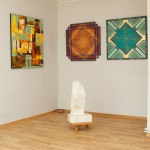 At the end of May 2011 in Piatra Neamt there was the opening of the Art Gallery "Era". The gallery is located on Privighetorii Street at the ground floor of block B3. The main purpose of this gallery is to promote young artists and their works in group presentations.
The Art Gallery "Era" from Piatra Neamt exhibits right now paintings, graphics and photography created by Arcadie Raileanu, Ciprian Istrate, Ovidiu Slatineanu and George Blaga.
This art gallery wants to be more than just a place where you can see art works … the main goal is to become a starting point for many young artists. The gallery was organized by a young and energetic team that wanted to create a warm place where every person that loves art to be closer to the workshop where this art is created. Also the promoters of this gallery hope that new relations will be formed between artists from different counties of Romania or different countries.

"Era" Gallery from Piatra Neamt, Neamt County
The creative minds behind this gallery are Arcadie Raileanu and Ciprian Istrate, two teachers from the Art School of "Carmen Saeculare" Cultural and Art Center. The current exhibition will be open for a month and we invite all of you to visit it.
The Art Gallery "Era" represents a new space dedicated to art and to young artists from Neamt County that will have from now on a new place to exhibit their works.