Tineretului Swimming Pool: the favorite summer destination for tourists in Neamt County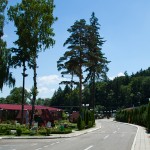 This year's season from Tineretului Swimming Pool started at the beginning of June. The beautiful warm weather was a decisive factor in this direction. The entertainment complex is located in a beautiful scenery, at the foot of Cernegura Mountain, near Bistrita River and it's one of the most modern places in the country.
The main attractions of the complex are the swimming pools and the playgrounds for kids. You can also find football and tennis courts, volleyball courts, roller and skateboard tracks, a paintball field, clubs and bars. All the facilities are modern and offer a variety of ways to spend a pleasant evening or day together with friends or family.
The tourists that come to Tineretului Swimming Pool from Piatra Neamt can accommodate in one of the four "neighborhoods": Ibiza, Malibu, Riviera and Roland Garros. In total there are 64 small vacation houses ready to accommodate tourists.
The entrance in the complex costs 3 RON/adult, 1 RON/children and 3 RON/hour for cars. On the beach near the pool the entrance is paid separately (7 RON/day) and you can also rent umbrellas and chairs. There is also a VIP area where you can enjoy a warm bath in one of the two pools or a cold drink at the bar.

Piatra Neamt Swimming Pool 2011, Neamt County
You can also visit the Equestrian Complex "Virgil Barbuceanu" that is located inside Tineretului Swimming Pool Complex. The equestrian complex offers riding lessons to people of all ages or organized horse riding walks.


The entire entertainment complex is called "Peste Vale". We invite you to come to Tineretului Swimming Pool and to enjoy a pleasant day together with your family and friends.