The Local Artisans Fair from Neamt Fortress – 2011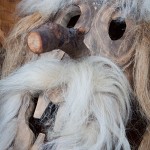 Between July 1 and 3, 2011 at the museum from Neamt Fortress from Targu Neamt took place the Local Artisans Fair, locally called "Iarmarocu' din Cetatea Neamt". The organizers of this event are the Local Artisans Association from Neamt County, Targu Neamt Town Hall, Neamt County Council and Neamt County Museums Complex. The event brought together over 30 artisans from Neamt County and all over the country.
The main purpose of the festival was to reunite the best artisans from Neamt County with artisans from Romania and to exhibit their works. This year's edition was special because of the participation of the Local Artisans Association from Neamt County.
Here are the artisans that were present at the festival: Viorel Marian from Falticeni, Suceava, Emanuela Paval from Plopeni, Suceava, Florin Cramariuc from Suceava, Silvia Cozmanca from Iasi, Valentina Acasandrei from Iasi, Dan and Valentin Pudrila from Falticeni, Suceava, Diana Gavriliu and Oliver Tanase from Suceava, Rodica Ciocartau from Pipirig, Neamţ, Vasile Dudanu Grumazesti, Neamţ, Marcel Mocanu from Branistea, Galati, Istan Kovacs and Melinda Pal from Sf Gheorghe, Covasna, Andrei Onu-Bascov, Arges, Elena and Nicolae Gheorghian from Suceava.

Iarmarocul de la cetate 2011, Neamt County
At the Local Artisans Fair also participated 15 special guests from different fields like culture or representatives of the local authorities that supported over time the local artisans from Neamt County.