Tourist Attractions in Cheile Sugaului – Munticelu Reserve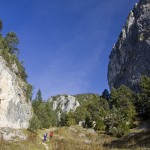 The Tunnel Cave
This cave goes through the ridge called Piatra Glodului and it's also called by the locals "Sura Glodului" Cave and its shaped as a massive tunnel carved in the mountain by the forces of nature. Huge boulders of stone formed this cave following a natural cataclysm. You don't need additional artificial light to explore the cave.
Munticelu Cave
Munticelu Cave is located at the entrance in Cheile Bicazului (Bicaz Gorges) in Surduc Munticelu Mountain, on the left side of Bicaz Creek. Munticelu Cave is considered to be one of the most important caves from the entire Moldova region. The trail that goes to the cave starts right across the street from the quarry of Bicaz Chei.
The entrance to the cave is of short height at about 1,5m. Then you'll descent for 10 m before entering a large room 30 m long. Munticelu cave has a total length of 120 m and you'll need additional artificial light to explore it.
Ecolog Chalet
The chalet is located in Cheile Sugaului Reserve. You can reach this place very easily on a 10 minute walk from the national road that goes through Cheile Bicazului. From here you'll have a great view over the surrounding stone walls and the green forest.



The hiking route that goes through Barnadu village – Criminis Peak – Munticelu Peak
This is a circular hiking route that will take you through some of the most beautiful and remote places from Neamt County. The surrounding scenery and traditional mountain houses form an incredible picture that seems frozen in time. The people living in these parts protect the surrounding nature and live in harmony with it as they learned from their ancestors.
The hiking route Munticelu Peak – Sugaului Stone – Criminisul Peak
This is a spectacular route and goes through Cheile Sugaului Reserve and in the end it reaches Munticelu – Criminisul ridge. Although the route is not marked it's not difficult to make because of the well preserved trail used by shepherds.
Almost near the end of the route you'll have the chance of admiring the beautiful image of Ceahlau Massif. The final objective of this route is Criminisul Peak of 1373 m from where you'll admire the surrounding nature.