History and tradition in Ceahlau area
21 August 2011
No Comment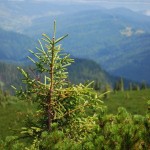 Ceahlau area is a place where tourists can witness a glimpse of our history and also enjoy the trails from Ceahlau Mountain. In Ceahlau commune you can see many historic and art monuments, religious settlements and memorial houses.
The main attraction from this place is represented by the marked trails from Ceahlau Mountain that is accessible all year long. From Ceahlau commune you can reach the top of Ceahlau Mountain and you can also visit Durau Monastery, the ruins of "Palatul Cnejilor" or the ethnographic museum.
Durau Monastery is an art monument built in 1835. The beautiful interior painting was made by Nicolae Tonitza. The ruins of "Palatul Cnejilor" (The Palace of the Cnej) are what remained from once a great palace that was once visited by Wilhelm von Kotzebue and Alexandre Dumas. In 1852 the building is auctioned because of some debts and bought by Smaranda Sturza.

Bicaz – Ceahlau area, Neamt County
The ethnography museum from Ceahlau village is organized in a building located near "Palarul Cnejilor" and the permanent exhibition presents evidence of local traditions and customs.